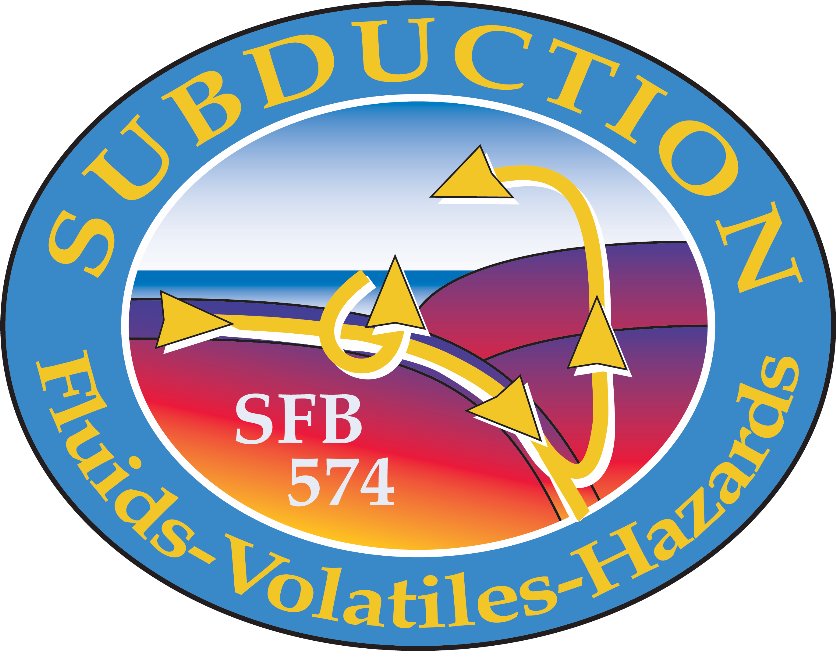 The Collaborative Research Center SFB 574
"Volatiles and Fluids in Subduction Zones"
invites contributions to a
Workshop on Subduction Zone Processes
to be held

Nov. 4-7, 2010

, at

Pucon, Chile
Deadline for abstract and registration: EXTENDED until Friday, October 1, 2010
For online registration please click here. - CLOSED -

(Note: this system does not send an automatic confirmation but your registration will be noted!)
For abstract submission please click here. - CLOSED -
(Please submit abstract only AFTER successful registration.)
Scientific topics for oral and poster presentations are
• Forearc-fluid relevant biological and geological processes
Chaired by T. Treude, J. Diaz-Naveas
Keynotes: M. Torres, R. Coffin
• Links between volcanism, seismicity, climate, hazards
Chaired by T. Hansteen, L. Lara
Keynotes: O. Oncken, Y. Dzierma
• Imaging, chemical tracing and modeling of fluid pathways
Chaired by C. Hensen, K. Bataille
Keynotes: D. Saffer, I. Savov, L. Rüpke
• Temporal, along- and across-arc variations in structure, tectonics and geochemistry of volcanism
Chaired by K. Hoernle, D. Selles
Keynotes: A. Folguera, D. Selles, S. Kay
• The 2010 Earthquake
Chaired by W. Rabbel, D. Comte
Keynotes: R. von Huene, A. Tassara
• An open session will also be provided
Chaired by R. Charrier, D. Völker
Keynote: M. Wilms

Venue:
Gran Hotel Pucon is the meeting and accomodation place on the shore of lake Villarrica (affectionately remembered by participants of the 2004 IAVCEI General Assembly).
Registration fee: 100 Euro
covering icebreaker, coffee service, daily lunch, conference dinner
Additional payment is required for hotel rooms which are charged at a special rate (see online registration site).
Student support:
Limited funding is available to support student participation; please send your informal application (noting your scientific motivation and including a copy of your abstract as well as a supporting note by your supervisor) to Erna Lange at elange (a) ifm-geomar.de. The support comprises the registration fee and (double room) overnight costs.
Post-conference field trip:
A post-conference field trip (4-days, Nov. 8-11) is currently planned for a limited number of participants to Llaima and Lonquimay volcanoes as well as coastal platforms uplifted by earthquakes. There will be an extra charge for the field trip. Check this webpage for updated information.
If you are interested in the excursion or have other questions, please contact
Armin Freundt afreundt@ifm-geomar.de or
Steffen Kutterolf skutterolf@ifm-geomar.de
The SFB-workshop flyer can be downloaded here.