Major research objectives
Major goals of subproject B5 are
to investigative and quantify diagenetic processes in forearc sediments
to estimate fluid flow and investigate geochemical processes at seafloor vent sites in the forearc,
to determine input fluxes to the subduction zone of climate-relevant volatiles for calculating mass balances of the subduction system,
to quantify gas hydrate inventories in the forearc
to gain a systematic understanding of differences in fluid mobilization processes at erosive and accretionary margins and to improve our understanding of geochemical control on dewatering
processes in deeply buried and subducting sediments, and
to contribute to the improvement of global volatile turnover in subduction zones.
From the beginning of the project in 2001 until 2007 the project work has been focused on the Central American convergent margin. Pore fluids and sediments have been obtained on ship-based expeditions (RVs Meteor, Sonne, Atlantis) between 2002 and 2005. Efficient sampling of sediments at active vents (see pictures below) are based on video-guided operations with muldticorer, ROV, and lander systems. In future, field work will be conducted off central Chile.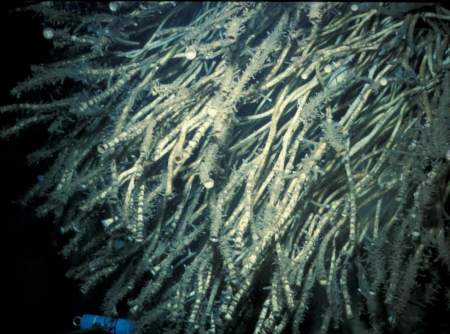 Pogonophora colony, Jaco Scarp, Costa Rica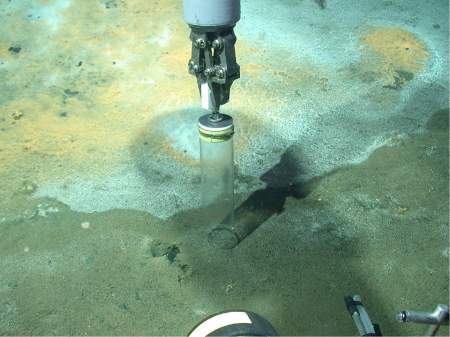 Sampling a bacterial mat by ROV, Quepos slide, Costa Rica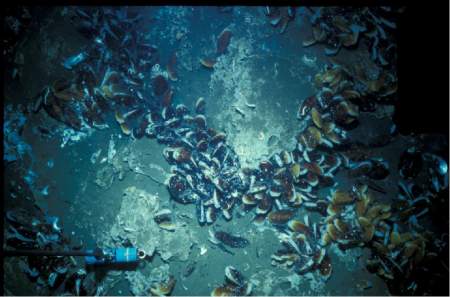 Clam field and authigenic carbonates, Mound Culebra, Costa Rica